Garage Insulation Options for Kentucky, West Virginia and Ohio Residents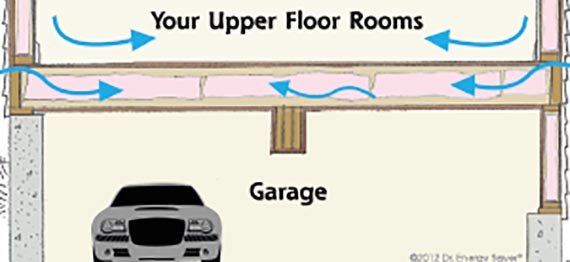 Insulating the Garage Ceiling
It's essential to insulate the garage ceiling if there is living space above the garage. Without garage ceiling insulation, the living space above the garage will be uncomfortably cold in winter and distressingly hot in summer. You'll be wasting energy nearly all year round.
Along with any garage insulation upgrade, Reed's Sprayfoam Insulation will also air seal the garage to eliminate energy-wasting leaks and prevent harmful auto emissions from entering your living space.
Insulating Garage Walls
When the garage is attached to the house, the wall that separates the garage from the living space should be air sealed, insulated and finished with fire-rated drywall.
Insulating the Garage With Rigid Foam
Rigid Foam Insulation installed by the experts at Reed's Sprayfoam Insulation, can provide insulating and air sealing value superior to other types of garage insulation. Rigid Foam offers high R-value, durability (it won't compress like fiberglass) and immunity to mold and moisture damage. Plus it has an integral radiant barrier for additional energy savings.
Interested in learning about the difference between spray and rigid foam insulation? Reed's Sprayfoam Insulation can provide you with the information you need.
Insulated Garage Doors
There are two types of doors in garages: those for people and those for cars. A people-type garage door should be insulated and weatherstripped for energy efficiency, and rated for fire protection specified in local building codes.
What About a Workshop?
Many people like to use the garage for carpentry, woodworking or automotive projects.
If you have a garage workshop, it pays to insulate the garage so that you can work comfortably regardless of weather conditions outside.
When it comes to the larger garage doors used for cars, many homeowners choose insulated versions as well, either when a house is built or when replacing old garage doors.
Insulated garage doors have cores that are filled with foam insulation, and metal "skins" that are often textured and detailed to look like old-fashioned frame-and-panel doors made from a solid wood design.
Although insulated garage doors are more expensive than uninsulated "economy" versions, they're often well worth the extra investment. In addition to improving energy efficiency, the door's insulated core helps to prevent the metal surface from being dented and bent out of shape. Home insulation is very important to a home's overall comfort and efficiency.
If your home is in need of an insulation upgrade, Reed's Sprayfoam Insulation are the local experts to call for all of your home insulation needs.