Wall Insulation in Johnson City, Kingsport, Asheville
Just like basements, crawl spaces are damp, moldy, and smelly. This problem occurs mainly due to excessive moisture that enters through the gaps or cracks in your crawl space walls. It can also lead to increased utility bills as your HVAC system has to work harder to compensate for the poor insulation.
At Mohr Foam, we provide quality wall insulation services. This material fills all the cracks or gaps in your walls and ensures that your crawl space is dry, moisture-free, comfortable, and energy-efficient.
If you want to upgrade your home's insulation, give us a call today at 844-407-0868 or click below! We provide complete home energy audits and offer free estimates on all our insulation services in Johnson City, Kingsport, Asheville, and surrounding areas.
Get A FREE Quote!
Benefits of Insulating Crawl Space Walls
Improved comfort in the basement and in the upstairs space too.
No more mold & mildew problems in the basement.
Stop unwanted air infiltration that brings in the cold winter air.
Lower heating & cooling costs.
Basement becomes usable as additional living space.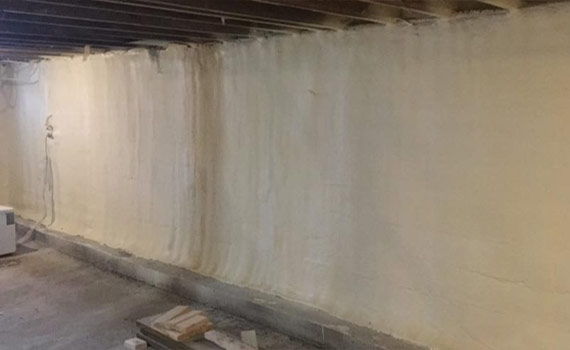 Improve interior home comfort with our wall insulation upgrades
If you have uncomfortable rooms or rising utility bills, trust the professionals at Mohr Foam. Our comprehensive insulation services will ensure that your home is as comfortable and energy-efficient as possible.
At Mohr, we believe comfort & energy efficiency starts with a properly insulated crawlspace. Our installers are trained, licensed, and certified. We are a family-owned business serving in Johnson City, Kingsport, Asheville, Knoxville, Hazard, Middlesboro, Greenville, Hickory, Spartanburg, Oak Ridge, Blacksburg, Boone, Bluefield, and other nearby towns.
Why Local Homeowners Choose Us for Crawl Space Insulation & Upgrades
Family-Owned Company
Licensed and Certified Insulation Installers
Free Attic Inspection to Correct Insulation Problems
Assurance of Increased Comfort & Consistent Temperatures in Your Building
Top Reputation for Craftsmanship & Minimal Disruption
Give us a call at 844-407-0868 or contact us online to schedule a home energy assessment or a Free Estimate for insulation services