Rigid Foam Insulation throughout Johnson City, Kingsport, Asheville
Mohr Foam installs rigid foam insulation for a variety of applications such as the attic, basement, crawl space, and so on. It is a popular insulating product for its durability, versatility and, high insulating value. Insulations like fiberglass boards may lose insulating value by settling or compressing but in the case of rigid foam insulation, you don't have to worry about losing insulation value. The foam boards shed water instead of soaking it up and they won't support mold or provide a home for mice, insects, and other pests.
At Mohr Foam, our experts will inspect the place, seal all the air leaks, and install high-performance insulation to help you in improving the comfort and energy efficiency of your home. We are your local insulation contractor serving Johnson City, Kingsport, Asheville, and surrounding areas. Give us a call at 844-407-0868 or click here to schedule a home energy assessment or make an appointment.
Benefit Of Rigid Foam Insulation
Rigid foam offers very high R-values compared to loose-fill insulation
Some rigid foam products are water-resistant and can be buried to insulate foundation exteriors.
Better at controlling moisture
Better at preventing air leaks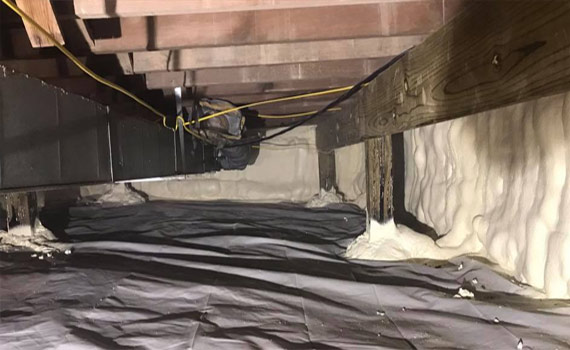 Start Your Home/Business Insulation With Mohr Foam in Asheville
Get an estimate to upgrade your home's insulation!
We would be happy to discuss which rigid foam insulation product would be the best solution for your home. We believe comfort & energy efficiency starts with a properly insulated home or business. Our installers are trained, licensed, and certified.  We are a family-owned business serving in Johnson City, Kingsport, Asheville, Knoxville, Hazard, Middlesboro, Greenville, Hickory, Spartanburg, Oak Ridge, Blacksburg, Boone, Bluefield, and other nearby towns.
Why Local Homeowners Choose Us for Insulation & Upgrades
Family-Owned Company
Licensed and Certified Insulation Installers
Free Attic Inspection to Correct Insulation Problems
Assurance of Increased Comfort & Consistent Temperatures in Your Building
Top Reputation for Craftsmanship & Minimal Disruption
Give us a call at 844-407-0868 or contact us online to schedule a home energy assessment or a Free Estimate for insulation services